BKT is one of the trusted Private banks in Albania. Its Swift Code/BIC Code is NCBAALTRXXX. In this article, we try to publish complete information about this bank.
Are you looking for BKT Bank information and Swift Code/BIC? You have come to the right place. Here we provide necessary information of all government, private banks all over the world. Maybe, BKT Bank Swift Code/BIC is NCBAALTRXXX.
Latest and complete information on BKT
Bank Name: BKT
Full Name of the Bank: BANKA KOMBETARE TREGTARE SH.A.
Bank Type: Private
Category: Commercial
Swift Code/BIC Code: NCBAALTRXXX
Bank Code: NCBA
Country Code: AL
Location & Status: TR
Branch Code: XXX
Customer Support Or Contact Number: +355 (0) 4 22 66 288
Fax Number:
E-mail Address: info@bkt.com.al
Bank Address: Boulevard "Zhan d'Ark", Tiranë, Albania
Bank Head Office: Boulevard "Zhan d'Ark", Tiranë, Albania
Established: January 1993
Established Country: Albania
Total Branches: 94
Total ATM Booths:
Total Assets: 2.7 Billion
CEO: Seyhan Penacablıgil
Founder: 1993 (the merge of BTSH & BKSH)
Service Hours: 24 Hours Hour Call Center, 24 Hours ATM Banking, 24 Hours Online Banking
Official Time:
Website: https://bkt.com.al
Wikipedia: https://en.wikipedia.org/wiki/Banka_Komb%C3%ABtare_Tregtare
Facebook: https://www.facebook.com/bkt.com.al
Twitter: https://twitter.com/BKTAlbania
Linkedin: https://www.linkedin.com/company/bkt
Instagram: https://www.instagram.com/bkt_bankakombetaretregtare/
Pinterest:
Youtube Channel: https://www.youtube.com/user/BKTOfficial
Bank Logo: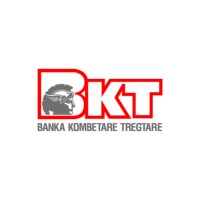 Bank Headquarters Address Map:
SEE MORE:Credins Bank